Discography of Texas Punk 1977-1983
Paul Routenburg and Henry Weld
Last updated: 11 July 2012
Copyright © 1994, 1995, 1996 by Henry Weld and Paul Routenburg. **
LEGIONAIRE'S DISEASE BAND
Houston, later San Francisco



- Rather See You Dead (Than With Wool On Your Head)/ Downtown
				    7" Disease Unlimited A-1001, early 1979 PS
				       Lunar Lab LL07, late 1979 PS
- Placebo World / Brainwashing // Trickery / Your Dreaming 7" Fowl #999, 1985 PS

First is pretty amazing punk. Second is hardcore.[HW]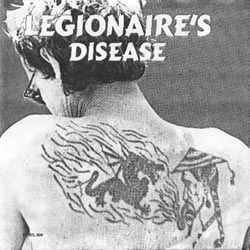 MARCHING PLAGUE
San Antonio



- Rock 'N Roll Asshole 7" CIA 0012, 1983 PS+insert
  (Rock 'N Roll Asshole / World War 4 // Mom And Dad / When I Die / Oh No!)

Average hardcore.[PR] The title track is good tight HC.[HW]
M.D.C.
Austin



- John Wayne Was A Nazi / Born To Die 7" Buzzard, b/w PS with MDC stamped above Stains

See the Stains listing for more info. Band moved to San Francisco soon after the name change.
MYDOLLS
Houston



- Nova Grows Up / The Rapist // In Technicolor 7" CIA 005, 1981
- Imposter / Exorcism 7" CIA 008, 1982
- Speak Softly And Carry A Big Stick 12" CIA 0014, 1983
  (Please No Mary / As Strange As Mine / World Of Her Own //
   Christmas Day / 21st Century Compliments / Rape Of A Culture)

Yikes, what I've heard (CIA 008) is awful.[HW] The first is better than the second but that isn't saying much.[PR] Unfortunately nothing they recorded even approaches their great track on the Cottage Cheese compilation.[BD]
MYSTERY DATES
San Antonio



- Mystery Date / All Or Nothing / Silk Stocking // (Don't Wanna) Grow
  Up / World War III (Is Calling Me) 7" Beehive TBU-105, 1982 PS
- Self Inflicted Sex 7" Beehive TBU-106, 1983 PS
  (Easy Action / Borrowed Time // Heart On Your Sleeve)
- Protect The Innocent / Hit & Run / Feeling's Mutual // Man In The
  Middle / Still No Fun 7" EV 13, August 1996 PS

I have the first two as a double pack in the Self Inflicted Sex sleeve. Not sure if it was generally available that way. (Don't Wanna) Grow Up and World War III are the better tracks here.[HW] Both original EPs have brief, shining moments. There are actually a couple decent tunes on both...the best stuff they ever did is on the EV ep (recorded 82/83). Like the Nervebreakers LP, I can't understand why the relatively weak stuff made it out at the time and the rockers had to wait 15 years.[RR] Bob Childress of the Nervebreakers has his say.
NERVEBREAKERS
Dallas



- Politics / My Life Is Ruined // I Can't Help You / My Girlfriend Is
  A Rock 7" Wild Child 1001, 1978 PS
- Hijack The Radio / Why Am I So Flipped 7" Wild Child WC1003, 1979 PS
- I'd Much Rather Be With The Boys / Girls Girls Girls Girls Girls
					    7" Wild Child WC1005, 1981 NS
- We Want Everything LP EV EV-08, 1994
  (The Good, The Bad & The Ugly / My Girlfriend Is A Rock / Girls Girls
   Girls Girls Girls / I Confess / Don't Believe In Anything / I've Got 
   A Problem // How Can You Tell / Strange Movies / Let's Fall Apart / 
   What's Left Of Me / The Race Is On / Stand Up)

LP is now available on CD on Get Hip.[PR] 7"s are all decent, third probably the best.[HW] Bob Childress has his say.
THE NEXT
Austin



- Make It Quick 7" Sharp 97x80, 1979 PS
  (Monotony / Cheap Rewards // Mr Wonderful)
- Kick Ass 7" Sharp NR12049, 1980 PS
  (Little Girls // Women Should Be Wilder / TVS)

Only two singles, only one good. The good one (the first) is amazing though. The Kick Ass EP doesn't kick much ass at all.[SD] The ridiculous liner notes to the second 45 must be mentioned. [BD]
NON COMPOS MENTIS (NCM)
Dallas



- Ultimate Orgasm / Twist The Blade 7" VVV 003, 1980 PS
- Quick To Compliment / I Used To Know You 7" VVV 006, 1981 NS


Ultimate Orgasm (released as Non Compos Mentis) is a fantastic song and the second 7" (as NCM) is very good, some amazing gtr sounds.[HW] Ultimate Orgasm's 1st press has black & white labels and the 2nd press has silver and red, slight difference on sleeve is the "8C" on second press in the bottom back corner. Second comes in a black, diecut, thick cardboard sleeve.[RR]
NORVELLS
Austin



- The Norvells Live LP Company Texas CT 003, 1981
  (Blue Baby / Bali Hai / Who Stuck Me? / Magnum Lust / Women / Rancho
   Mirage / Market Me/Margaret Mead // World Sucks Big / Mange Moi / Blue
   Baby / Boots / Oh Calcutta / Bone / Women / Rancho Mirage / Bone)

Strange punk-new wave with a female signer.[PR] Side 1 live Houston June 2 1979, side 2 live Austin May 25 1979 except final two tracks in the studio.
OFFENDERS
Austin



- Lost Causes / Rockin' The Town 7" Suffering Sounds, 1981 PS
- I Hate Myself / Bad Times 7" Rabid Cat RAB-001-OF, 1984
- Fight Back 7" DE Bitzcore 01657, 1989
  (Lost Causes / Poor House Energy / I Hate Myself // Rockin' The
   Town / One Fine Morning)
- We Must Rebel LP RRadical RROFF-001, 1983
  (Fight Back / No Chance / Like Father Like Son / Just For Fun / We
   Must Rebel // Never Cared / Direct Defiance / Wanted By Authority
   / New Militia / Youth Riot)
- We Must Rebel LP DE Bitzcore 01656-08, 1990
  (Fight Back / No Chance / Like Father Like Son / Just For Fun / We
   Must Rebel / Face Down In The Dirt // Never Cared / Direct Defiance
   / Wanted By Authority / New Militia / Youth Riot / I Hate Myself /
   Fed Up / Inside The Middle / Fight Back (Live))

Bitzcore 7" is from the first 7" sessions. Extra tracks on the Bitzcore LP are from various compilation appearances.
PARTY OWLS
Houston



- Rock Out 7" Potential Veal Product, 1983/4
  (Competition Skank / Second Choice // Spray Coat / Sodom Buddy /
   Texas Pride)
- Party Owls LP Ecstatic Peace!, 1999

Pre-Sugar Shack. Spray Coat is about a kind of spray paint that was made for the sole purpose of giving Mexican kids a cheap high. I read an article in the paper once about this woman who tried to track down the manufacturers after her son got messed up on the stuff, and the address on the label was false. Another sad chapter in Texas history. And Texas Pride is a kind of cheap beer, although that's not exactly what the song's about.[JG] The LP was recorded in 1985.
PELVIC THRUST




- Lunar Madness // Night Is Not Bad / Heart With No Soul 7" Live Wire LW-7, 1986

Recorded 1981? Song titles kinda describe the mood this music attempts to convey - dark, gothic. It doesn't work terribly well though as songs are dull, plodding synth based stuff. Hmm, I guess that does sound like a lot of goth music after all.[PR]
PLASTIC IDOLS
Houston



- I.U.D / Sophistication 7" Vision TW23, 1979 PS
- Einstein Experience // Uncircumcised Twin / Siamese Lust
						    7" Vision DT25, 1980

First is decent punk. Second starts to mellow towards new wave. [PR]
PLAYTHINGS
Fort Worth



- Church Of God / I Can't Face It 7" Psychotex U40813, 1995/1981 PS

OK froth.[HW]
PLUTONIANS
Dallas



- Dimensions In Time / Right For The Time 7" Plutonians 81, 1981 PS

Strictly new wave, the b-side starts promising with loud guitars but then the keyboards and vocals start and I'm outta there.[HW]
QUAD PI
Irving



- In Near You / Dhicks // Mortville / Laugh Lines 7" VVV 007, 1981

Experimentalish art punk, kinda neat.[PR]
RADIO FREE EUROPE
Austin



- History Of The Invisible Dog 2x7" MIG MIG001/002, 1979
  (Alien Day / Borrow Some Money)
  (Eno's Funeral // Disco Blanco / Out Of Town / Motel Water)
- It Likes You / A Couple Of Screams 7" MIG 003, 1980
- Laugh On Cue LP Headon, 1980

The 2x7" is experimentalish art punk, kinda neat. Haven't heard the 2nd 7". The LP is a lot of ambient experimental droning from what I remember.[PR]
RALPHS
Dallas



- Mutating Man / Teddy Boy 7" VVV 011, 1980

Mutating Man is a good quirky new wave.[BD] Teddy Boy is a pretty great punk-wave number.[HW] Also a test pressing with the same number - tracks are Neurotic / Hairless Creature Of Love.
RATTLECATS
Austin



- Run My Life / Back To Life 7" Worlach 0001, 1981

Punkpop on the b-side.[CW]
REACTORS
Austin



- It's Not Important / Cold Eyes 7" Stress SR01, 1980 PS
                                Rerun RERUN 008, 2011 PS

Good slower tempo riffpunk.[PR]
REALLY RED
Houston



- Crowd Control / A Corporate Setting 7" CIA 001, August 1979, NS
                                                 bootleg 2011, NS
- Modern Needs / White Lies 7" CIA 002, May 1980 PS
- Despise Moral Majority 7" CIA 003, February 1981 PS
  (Entertainment / Starvation Dance // Nico/A Reminder)
- New Strings For Old Puppets 7" CIA 009, 1982 PS
  (I Refuse To Sing / No More Art // Suburban Disease / I Was A
   Teenage Fuckup / Ode To Kurt Kren)
- Teaching You The Fear LP CIA 006, October 1981
  (Too Political? / Bored With Apathy / The Fee / Teaching You The
   Fear / Decay / Run 'Em Out / No Art / Bar-b-que / White Lies /
   Nico // Starvation Dance /  Prostitution / Aim Tastes Good /
   Entertainment / Pigboy / Ain't No Time / Lockjaw / Reminder)
- Rest In Pain LP CIA 0015, 1985/3
  (Youth Culture For Sale / Balance Of Terror / Personal Hell /
   Ritual / Let The Night Roar (With Us) / Hang 'Em High / Star
   Mangled Banner / Nobody Rules // War Sucks / Just The Facts Ma'am)
- Really Red CD Angry Neighbor A.N.06, 1993?
  Contains Modern Needs from 2nd 7", New Strings For Old Puppets EP,
  Teaching You The Fear and all of Rest in Pain except Star Mangled
  Banner and Just The Facts Ma'am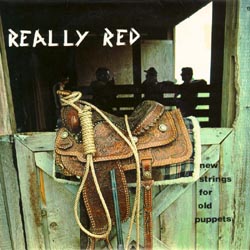 If you've never heard them, grab the CD pronto. The first, second and last 7"s are really great as is the first LP and parts of the second. Bob Weber and Jean-Paul Williams back Deniz Tek on tracks recorded in Houston in January 1981. 100 Fools was released on 7" (AUS Citadel CIT003) and R.P.M. on the compilation Battle Of The Garages (Voxx VXS-200.006, 1981).[HW] Kelly Green has his say.
RECIPIENTS
Houston



- Lunatics / Constitution 7" P.R. PR-001, 1981 PS

Of a caliber somewhere below Really Red and above Terminal Mind... Skunks quality perhaps? Where it lacks in a certain over-the-top quality found in other records from the period, it makes up for by being original and avoiding the pitfalls of punk cliches.[RR]
RE*CORDS (REVERSIBLE CORDS)
Austin



- Guyana Holiday / Legalize Crime // Crash & Burn / Plastic Money
						 7" Co-tex CTR 001, 1980
- Reversible Cords LP Company Texas CTR-002, 1980
  (Highway Tomorrow / Video Cassette Machine / Rabble Rouser / Teen
   Orgy / Plastic Money / Malcontents / Birthday Song / Company Car /
   Big Penis Envy // Straight / Change / Sabotage / Treble Rebels /
   Indecision / Acoustic Indecision / Violators / Let's Get Gone)

Kinda weird punky new wave, shared some members with The Norvells, the drummer from The Huns (Tom Huckabee) played in this band.[PR]
REJECTS
San Antonio


- E.E.G. / Barbed Wire Baby // You Haven't Done Your Share Until The Job
  Is Finished 7" Closet CRD-003, 1980 PS

Total KBD-type, amateur punk with guitars on 11. Rumoured to exist for a number of years before a copy surfaced....the record was immediately ushered into the Texas hall o' fame.[RR] EEG is somewhat tuneless but indeed rockin', Barbed Wire Baby is mostly a monster with the refrain exhibiting some charming spasticity.[HW]
ROENTGENS
Austin


- Atomic War / Chatter 7" Austown 813, 1981 HS?

A-side recycles a recording previously issued by band leader Leo Keling under his own name (see listing in the first half of this discography.) The farfisa-dominated flip turns down the punkiness. At least two copies come with the front half of the Leo Keling picture sleeve, at least one is sleeveless, and I recall seeing another sleeve design somewhere, but might be wrong about that.[JF}
ROKKER
Austin


- Rokker LP Owl 911-74, 1979<!>
  (Rock Fever / Daddy! Whatcha Doin' To My Sister? / Tall Girls / My Sugar Pops /
   Leave Your Mother // Our Time Is Coming / Flames Across the Sky / Who's A Punk?
   Your Mother! / Rokker's Lament / Pigeon Hole Wankers)

Described by Jello Biafra in one of the Incredibly Strange Music books as Flamin' Goovies-esque, a pretty apt description. The lyrics to the punkiest songs Pigeon Hole Wankers, (Daddy) Whatcha Doin' To My Sister, and Who's a Punk (Your Mother) are pretty funny in a cornball sense. My favorite song on the album is the more rock-n-rollish Our Time Is Coming. Overall it's not your typical punk stuff, but it is kind of weird.[Brett Herron]
MIKE RUNNELS
Austin



- Channel 19 / Only With You 7" Stress no No., 1981
- Whose Your Latest? / Happy Ending 12" Stress SR108, 1983

Ex-Reactors. 7" is remotely punk, not very interesting.[PR]
SCARECROWS
Houston



- (I Don't Wanna Be) No Dust In The Corner / Too Late Blues // Joe's Problem
   / Bellboy 7" Special Edition ACA-6914/6915, 1982 NS

No Dust is a great monotonous garagey song, singer sounds full of desperation.[BC]
SCHEMATICS
Dallas



- Promises / South of The Surf 7" VVV 001, 1980, NS

A-side average pop-punk, B-side a decent surf instrumental. Changed their name to NCM.[PR]
SHADES
Austin



- Ward And June Never Understood... 12" Ray-gun RGR001, 1980
  (Nova Lust / Night II / Dial Another Hit / Beaverworld / Snowy
   Day / Hook In Your Heart)					       

Female vocal pop punk.[CR]
SKUNKS
Austin



- Can't Get Loose / Earthquake Shake 7" Skunks SR1, 1979 PS
                                Last Laugh HAW-019, 2011 PS
- Gimme Some / Promises // Hello Heartbreaker / Top Ten 7" Skunks SR2, 1979
- Cheap Girl / Something About You Scares Me 7" Skunks SR3, 1979
- What Do You Want / The Racket 7" Skunks SR4, 1980
- Skunks 1979 2x7" is the 2nd and 3rd 7" issued together in sleeve
- The Skunks LP Rude #1, 1980
  (Something About You Scares Me / Gimme Some / Memphis / 6th Street
   Peggy / Top Ten // Television Lover / Cheap Girl / That's The Kind
   Of Girl / Desperation / I Smell Trouble)
- The Skunks LP Republic RRC-8201, 1982
  (Questions For Laura / Hurt / Quiet Girl / Let's Get Twisted / For
   Your Love // You Really Know How To Put The Pressure On /
   Telewoman / Still The Same / Jesse's Not Like The Other Boys /
   Gimme Some)

First and the double pack are good. Everyone warns me off the third and the second LP.[HW] The first LP is very good, same style as 1st 7" and the double 7" pack. 4th 7" and 2nd LP are crap.[PR]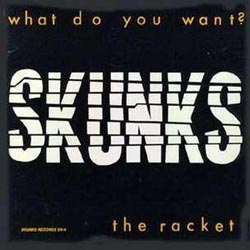 SPIES
Houston



- My Radio / Bad Girl 7" Giant Squid, 1982 HS?

Mystery record, quite good.[DR] Another source says "mediocre would be the kindest description".
STAINS
Austin



- John Wayne Was A Nazi / Born To Die 7" Radical, 1980, red and green PS
	    				 Buzzard, b/w PS with MDC stamped above Stains

Another TX classic, smoking (proto-)hardcore. The band became M.D.C. and moved to San Francisco, the second pressing announces the name change.[HW]
STANDING WAVES
Austin



- Early Warning // No Judy / Love-Why Not 7" Classified 1981, 1979 PS
- Integrating Circuits / Don't Worry 7" Classified NR11340-1, 1980 PS
- Vertigo 12" Classified 006, 1981
  (Vertigo / Crash And Burn / Can't Let Go // Behavior Mod / Sensory
   Overload / Never Say Die)
- Vertigo / Crash And Burn 12" Moment Productions SWM 832, 1983

New wavish stuff, I like most of what I've heard but it's probably an acquired taste.[PR] Integrating Circuits sounds like first-LP XTC.[HW]
STICK MEN WITH RAY GUNS
Dallas




The Stick Men never released anything on their own but check the compilations listing for their contributions to Live At The Hot Klub, Cottage Cheese, A Texas Trip and Tales From The Edge - all great. Then go to the Stick Men With Ray Guns web page.
SUPERMAN'S GIRLFRIEND
Dallas



- Bad Pharmacist / Mannequins split 7" EV EV-04, 1992 PS

Recorded 1979.
TEENAGE POPEYE
El Paso



- Modern Problems 7" Alien Nation R6137, 1981 PS
  (Life Is Cheap / Peter Principal // She's Only 16 / Expectations)

Mediocre new wave, or so I've been told.[PR] Confirmed.[RR] Confirmed twice.[BD] Um, the first and last tracks are excellent punk-wave.[HW] Recorded June 1980.
TEENAGE QUEERS
Austin



- Live At Raul's 1980 LP Brain Transplant BTX04/98, 1998
  (Scavenger Of Death / I Wanna Pee Pee In The Disco Mommy / (Learn To) Hate In
   The 80s / Swastikas For Christ // Hammer Sadist / Nazi Cowboys On Welfare /
   Christian Rat Attack / Slave Of Mind (Fuck Power Pop))

Live on 15 May 1980. File next to Metallic KO and Germs live at the Whiskey in the glorious shambles section of your collection. Good band and audience baiting between the 8 songs, which are mostly crude soundalikes of the two sides of the Bobby Soxx 7" (basically the same band that plays on that). Great liners (not sure about the comparison of Bobby to Marilyn Manson though) and sleeve.[HW]
TELEFONES
Dallas



- Ballad Of Jerry Godzilla / She's In Love With The Rolling Stones
						    7" VVV 002, 1981 PS
- Vibration Change LP VVV LP-001, 1980
  (A Sign Of The Times / Voices (Come And Get It) / Race Car Drivers / Solid Ground / 
   Let's Go Bowling / Stop Ruby Stop / Living In America / Vibration Change / Pretty
   Polly / Rocket, Rocket / Ballad Of Jerry Godzilla)
- Rockola LP VVV LP003, 1981
  (Brave New World / Sports / Automatic Man / Mon Cherie / Stranger In A Strange Land / 
   The Arabian Wars / Radio Rebels / Farmer's Daughter / Circles Under Sunshine (Circle
   Dub))

The first song of the 7" is excellent. The LPs have a few good songs but overall they aren't that great.[PR] I beg to differ, the first song is pretty weak rock.[HW]
TERMINAL MIND
Austin



- I Want To Die Young / Refugee // Sense of Rhythm / Zombieland
					   7" No Records TM-1, 1979 PS

Very good punk record.[PR]
THE TIX
Houston



- 12/13 10" Lunar Lab 2009, 1980
  (Gucci Pucci / Mannequin / Icarus // What I Want / Ben Franklin /
   The World Is My Cage)

Thinly recorded Wild Seedsy garage riffrock and some more typical Houston punkwave.[CW]
TOXIC SHOCK
Austin



- 12 Songs From A Non-Existent Band LP no label, 2000

Studio tracks from 1982.
UNCALLED 4
Waco



- Cotton Fields / Grind Her Up 7" Tiger Tail 001, "1979" PS

A-side is a loose cover of a song I can't place right now. An old country/traditional song probably. B side is great lo-fi punk.[PR] Cottonfields was done by the Beach Boys, though maybe not originally, anyway this is a great sloppy punk version. The flip is kinda like the Cramps punkier moments (a la say Garbageman).[HW] At the end of the millenium band members finally revealed this was recorded and pressed in 1985.
URANIUM SAVAGES
Austin



- Trust Us LP Roy ???, 1979

Old time TX artschool band veers from bloozy ZZ Top to fair fake punk.[CW]
US MODS
Mesquite



- I'm Gone / Government 7" Trebelphone 52, 1980 PS

60s pop influenced. Pretty good.[PR]
VAMPS
San Antonio



- Formula X / Used To Be Cool 7" Beehive 101, 1979 NS
- Nowhere To Go / What About Me? 7" Beehive 102, 1980 NS
- 2x7" Beehive TBU103/104, 1980 PS
  (What's Your Excuse / I Need Somebody)
  (Carving Knife / Too Late)

Iggy/Dolls sounding, on the third at least.[HW]
VAST MAJORITY
Houston



- I Wanna Be A Number // God's Groin / Throwdown 7" Wild Dog WD-001, 1980 PS

I Wanna Be A Number is a good song. The others are more art-punk and not as good.[PR] Right up there with the Urinals and Insults in the spazz punk hall of fame. Some of the worst/best drumming ever waxed.[BD]
VENDETTAS
Austin



- Atheist Rock / All About My Love 7" Revenge, 1980 PS

Obscure hard guitar punk`n'roll and punkwave.[CW] Bad.[BD]
VOLUMATIX
Houston



- Fitness / Trashman 7" Criminal, 1982
- Obscene Phone Call 12" Republic, 1982
- In The City LP Tropical, 1984

Almost certainly New Wave, but I haven't heard them.[HW] Dot Dean reports "They had a video that was supposedly going to get played on MTV and they moved away to someplace more conducive to 'making it'. Never heard of them again."
VOMIT PIGS (VPs)
Dallas



- Take One 7" Bad Wreckords AT-5978, 1978 PS<!>
  (Baby's Playing Games / Slut // Useless Eater / Art Of The Insane)
- split 7" EV, EV-04, 1992 PS
  (Baby's Playing Games / Useless Eater / Art Of The Insane)
- CD early 1999

Amazing stuff, an easy early US punk hall-of-famer. If you haven't heard Slut, it's slower and Ryan can probably be forgiven for leaving it off the reissue.[HW]
SOME UNKNOWNS
RAKES
7"

---
** Copyright © 1994, 1995, 1996 by Henry Weld and Paul Routenburg.
Email: henry@collectorscum.com, paul@v-wave.com
Current revision Copyright © 2000 by Henry Weld and Paul Routenburg.

Notice: All rights reserved. For private use only. Copies may not be modified, published, or redistributed for profit without express permission from the copyright holders. Derivative works are subject to this copyright and may not be published without prior agreement with the authors.